Unscientific test - The Mallory 685 has a small LED that flashes and there's a small noise when it fires the CD. I hooked a Durspark with - AFAIK - a stock Ford pickup in it and spun it by hand. blink-blink-blink, pop-pop-pop. MSD with a blue pickup - POP-POP-POP. Noticeably louder. FWIW. No guarantee that the Ford part wasn't some aftermarket item. Spare distributors here are mostly old junkyard finds.
Also of note - the pickup I received from Summit/MSD and installed was black, not blue. So there's that.
So, I did get it fixed on Friday. Wife had to run the computer at the track, so I dropped her off and went home to work on the car. Here's what the old stuff looked like - how it got this way - ??? I used the bead blast cab to clean up the reluctor and the advance mechanism. We live in a dry climate, so extra ? This dist. was in the dragster, so maybe something to do with methanol use.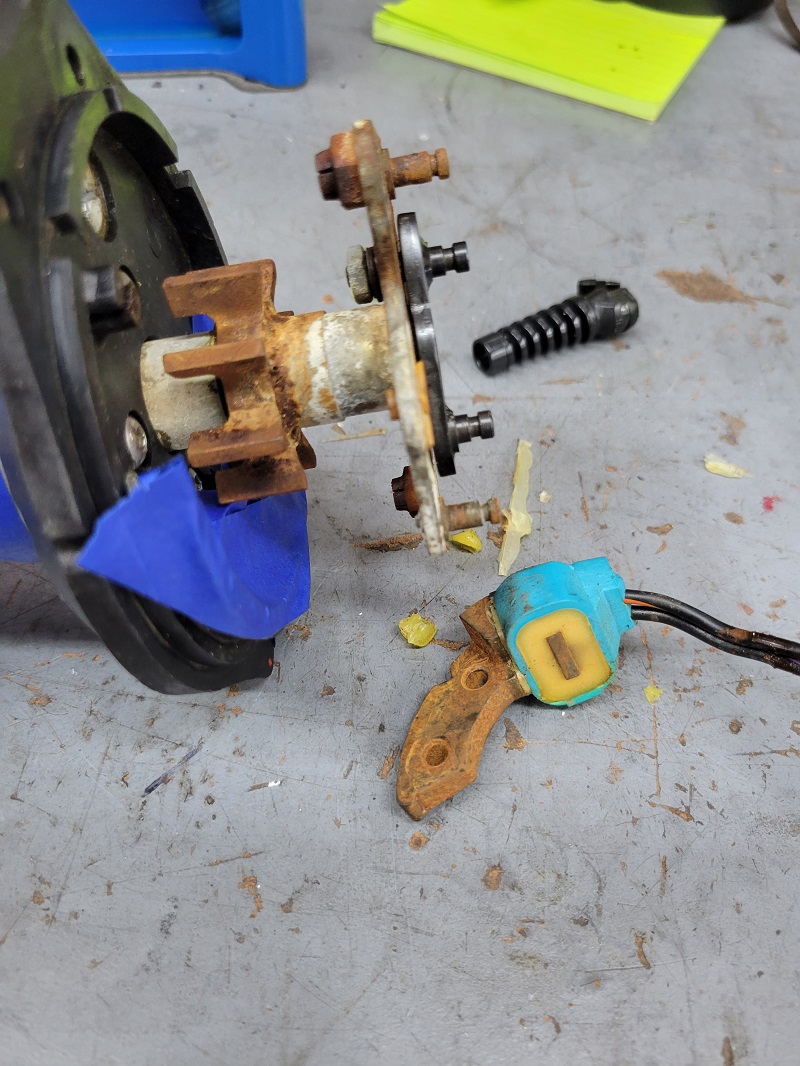 Got it all buttoned up by about 9:30. Saturday was a total fail of a race. We were hosting the Texas Drag Racing Asso. They run nostalgia eliminators and some nostalgia Super Stock cars. The NEs run 4.65, 5 and 5.50 indexes and the NSS runs off a posted set of class indexes. Well - nearly nobody showed up. Took use 6 hours to run like 45 cars, most delay with the NE classes getting turned around. We had 4 -FOUR - NSS cars. That's right, two rounds and done. Track put up $500 each for a 5.50, 6.00 and 6.50 indexes and we drew about 8 cars. Most were regulars that were going to run one thing then dump into a higher index. We ended up just running those as an all run bracket class. So I shoulda brought the car. Could have at least run it some.
BTW - starting line track temp at 2 PM was 143F. Long hot miserable day
Get home about 7 and park the trailer in the street. Unloaded the baseboard material and went to load the car. I just had a couple of gallons in it, so grabbed a jug sitting in the shop and dumped it in the cell. There were three to choose from - I didn't choose wisely. Car gets out of the shop OK and dies in the driveway. Acting again like it's got a fuel problem. Cough, barf, struggle, die. Grab a flash light and go look in the cell to see if something has plugged the outlets. What I see is all kinds of cloudy muck floating around. WTH. Grab same jug and pump the cell out. Unhook the feeds and let the rest run out on the driveway. Wedge my hand in there with a rag and wipe the floor - WATER. Apparently, the jug I picked up was old fuel and had condensation in it. Luckly, I had 5 gallons of methanol waiting for alcohol carb testing. I used some of that to dry out the cell and flush out the fuel line. Put 5 gallons of good VP110 in there and about a quart of methanol. After some fits and sputtering to get the junk out of the carb, got it running again. Everything else in a clear jug that I wasn't sure about became weed killer in the back alley. The $100 I didn't spend running this weekend will buy two jugs of fresh 110 next weekend. So at least that. Good grief.
Way late to this post (and all the others too) but....after seeing that tremendous corrosion to the ditzy shaft and advance mechanism tower, I think it is a galvanic reaction unrelated to methanol use. Consider: dissimilar metals in contact with one another (note that the inner spring posts are clean but the outers are rusty) and in the presence of electrical fields often cause that kind of surface corrosion and what I'll call white flaking. If your ditzy cap isn't vented, I'd try it...or add more vents. That and adding a ground directly to say the ditzy hold-down plate or the ditzy body itself (yeah, I know it sounds weird but stranger things do happen!). Your likely bleeding some electrical energy into the upper body, hence the chemical reaction resulting in that strange corrosion.