#1 - Bracket Racing is NOT a spectator sport, unless you are a bracket racer. The general public has no clue and we can't hardly put any butts in the seats at $5/car load. So nobody cares how the car launches. If you want heads up, that's fine. It's fun for sure. Index racing without stops is also kinda fun. We have that argument here all the time - if you have the car count, you can do it. Many places do not. You draw a 100 mile circle around our track and maybe find 120,000 people. You draw a 100 mile circle around Texas Raceway or Northstar and you get 3 million. It's a huge difference in what you can offer or run to bring $ in the track gate.
As for banning Electronics - fergetabout it. Why? because those people are big revenue for the track. One toter shows up, there may be 2-3 dragsters in there and even a couple of Jrs. That's several hundred $$$ for the track in gate and run card fees, fuel, reserved parking, etc. One toter. Now see 40 toters, 30 more 3/4 or 1 ton trucks with 30' traiers unloading same. Compare to a car load of spectators at $5. See #1 above. Depends on the day but our NoE class is usually 5~10 cars more than Super Pro. But there are quite a few that run both.
So anything goes on the track. IHRA and NHRA both allow everything but a box in No Box. NHRA adds to the confusion with "Sportsman" which is more of a footbrake class. That's fine, except small tracks don't have enough cars to run Super Pro, Pro, NoE and Sportsman. So like us, it's Super Pro and NoE. That's also good for the track. Why? Because you can pull the box out, use a button to back up (Pro Brake) and the track sells two run cards.
Now CompuLink proposes to dump the age old "first or worst" rule on reds. IMHO this is NOT COMPULINKS CALL. This is a xHRA call ONLY. If you call up our track manager and tell him he's got to dump Accutime and replace it with a $50,000 CompuLink system because "it's more fair", he'll tell you to go to hell. If it becomes mandated, then there will be upgrades to the existing systems. So IMHO the xHRAs need to make that call because it's just going to piss off a racer that travels 200 miles to a track that either has it, and it screws them up - or they travel from a track that does it to one like ours that won't. Again, a pissed racer = zero future revenue.
I drive a slow car, have for a long time. The average in No Box here waits on me about 1.5 seconds. Yes I have the 1st opportunity to red light - so what. I also can't see a 6.0x or a 5.5x car going by at 30-40+ MPH at the finish line, so I better cut a light and dial it tight. 2nd place NoE last year, three time NoE/footbrake champion, runner up Division 4 2010, 6 time Summit Super Series local track winner and track rep at the Summit Finals. The 1st Lone Star race we had here in 2014, there were no "NoE" classes. Anybody without a box was called separately for the first 4 rounds and Crosstalk was left on. When I went out that Saturday, there were 4 dragsters and me. I took a hair too much stripe.
I have a shoe and no t-brake, 2-step or anything else in the car. Bring it, I'll run it. See my new car in the General section - we're going to run NoE. The car came with a very high $$$ Pro Cube that I'll put away for later. The trans is out of a blower car and has no brake in it.
So I say if you're whining about leaving first and going red, well - get better at it. And if you have a problem with the other lane being up on a 2-step and on the brake, get over it.
As for Luke Bodaki - if you know him, he's won damn near everything. His car is always fast and loaded up with electronics. He's hard to beat. He's been here, last time was a two day race in 2007. Won every round in his roadster in Top and NoE both - except one: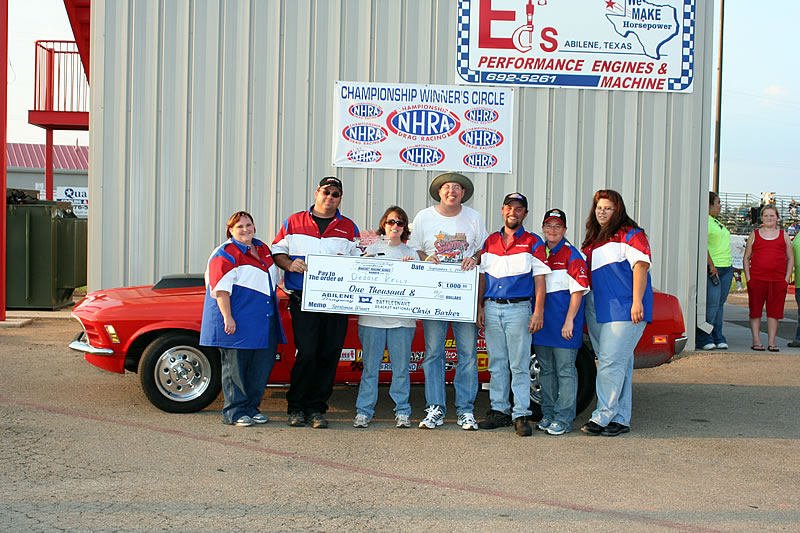 That's my wife's NoE, no electronics Mustang - whipped his butt in the final.